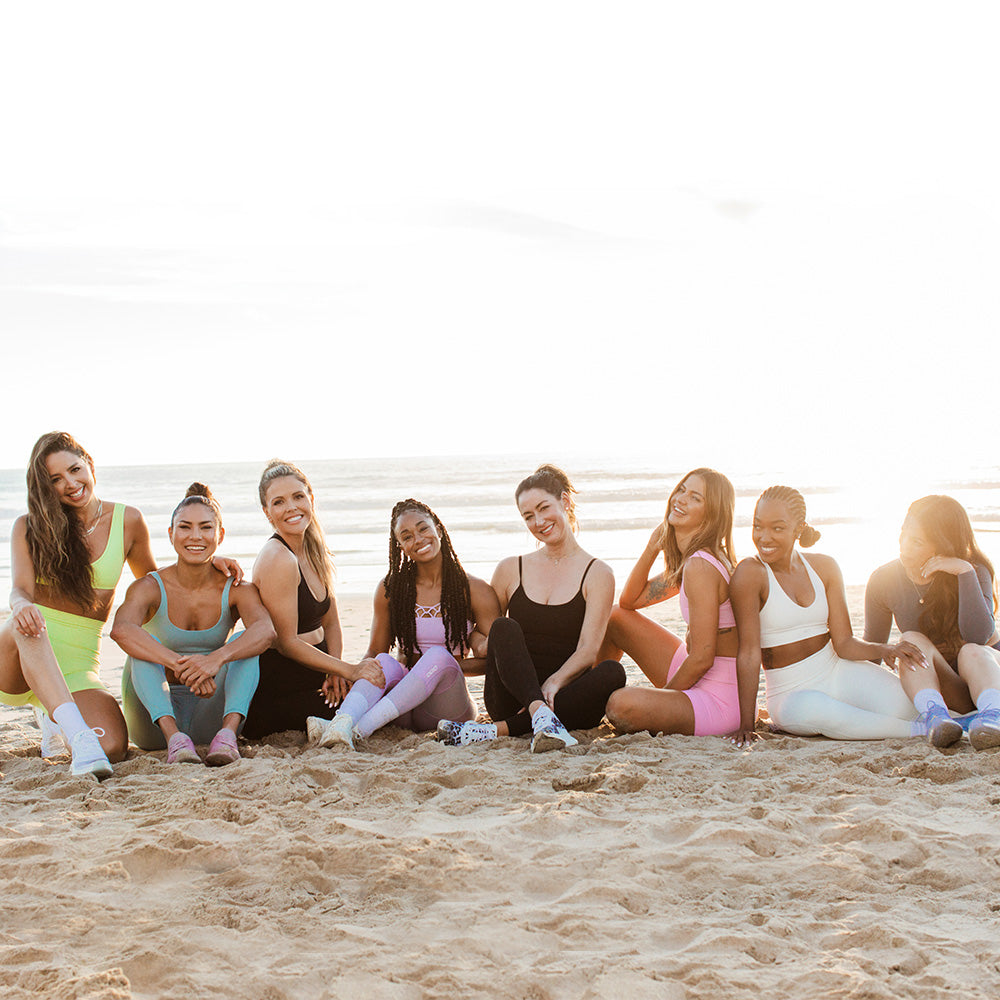 Do All Your Favorite Workouts With Our New Best of the Beach Channel
By Brian Leckrone on
Are you ready to escape your typical routine and head to the sandy beaches of Southern California with us to break a SWEAT? We thought so… Let's have some fun!!
This summer, we have put together an amazing set of workouts for you, Best of the Beach, that's all about hanging with your favorite trainers, getting your sweat on with a beautiful backdrop, and crushing some of our most popular workouts! We wanted to bring you some of the very best of our routines, curated to give you the perfect mix of total-body work, muscle-focused exercises, and a mix of training modalities. 
Download your Best of the Beach Calendar here to plan out all of your workouts day by day! 
While Katrina and Karena will lead you through many of the workouts in this channel, you'll also see familiar faces like Stef and Chevy and some of our newer trainers, like Natasha and Amber! As always, each trainer brings an upbeat energy and specific expertise to her routines, helping you feel motivated, excited, and ready to tackle any movement!

What To Expect from Best of the Beach
Best of the Beach, in the Workout Library of the app, features our most popular beach workouts and can be followed as a three-week program. You'll work through a variety of training styles, from Yoga and Pilates to strength training and HIIT. This means you'll target different energy systems of the body, burn out various muscle groups, and become one well-rounded, strong, and present athlete!
The schedule of workouts mixes in specific upper body-, lower body-, and core-focused routines, along with total-body workouts, to make sure you hit every muscle—head to toe and side to side! To do this, you'll also mix in a range of equipment (though bodyweight always works too)! With all this variety within the program, you'll bust boredom, boost energy, and keep up that drive to WORK IT!
The best part: With each workout you complete, you'll feel a sense of accomplishment, so you radiate confidence all summer long—which is exactly what we want for you, girl!
While you'll see a workout scheduled on most days of the week, you'll also find two rest days mixed into the program so you can recover and get ready to get back out on the sand the next day! Feel free to go at your own pace and do what feels right for YOU! You know your body best!
It's Time to Break a Sweat on the Beach!
To keep your confidence on high, your muscles strong, and your energy elevated, follow along each day of the program, but the most important thing is that you make sure you have some FUN! Best of the Beach is all about getting outside your comfort zone and improving your fitness, but it's also about getting acquainted with the TIU community and simply feeling your most amazing self. These all-star routines and the trainers that lead them should help you do just that! 
Join along in your Tone It Up app and don't forget to share all your post workout pics, beach selfies, and shouts about your favorite routines using #TIUBeach! We'll see you for some sweat in the sun, girl!!
- Your TIU trainers

FAQ's:
Is this a program or a challenge?
After listening to community feedback, we decided to make this an on demand channel with a suggested calendar. These workouts are from some of our favorites released over the years, on the beach.
Why Best of The Beach?
Over the years we've had some amazing programs + workouts, all at the beach. You'll see some old and new faces + have a calendar to guide you. We want to make sure you're keeping the momentum going after Own Your Strength, so keep it up!
How can I use this channel?
After Own Your Strength or any other challenge utilize this channel and suggested calendar to mix it up and crush a 21-day set of workouts!
How can I personalize this channel?
You can always schedule your workouts with the help of the calendar, but if you need the extra challenge you can also restart Own Your Strength at the same time.
Is there a meal plan?
We suggest continuing the Own Your Strength meal plan and also add in some of your favorite recipes from the App!
Is the #TIUTeam doing this together?
Yes! Join the TIU team for this fun mix of workouts and tag us at #TIUBeach!