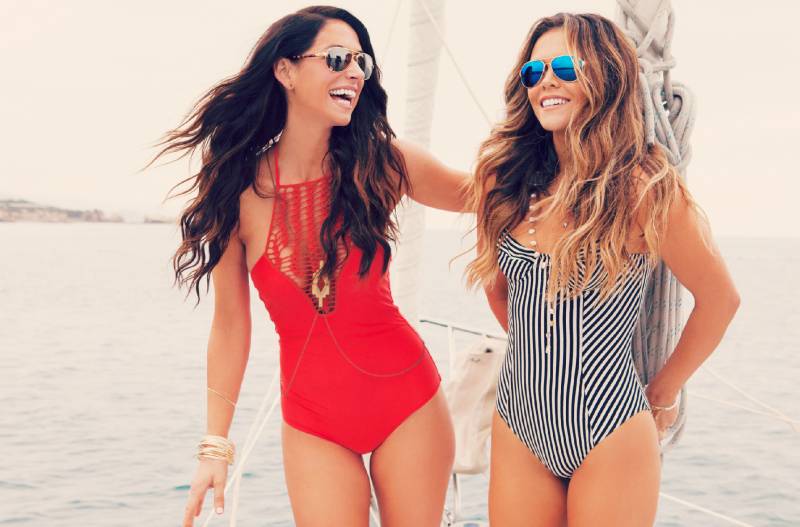 Ahoy! Summery Boat Snacks :)
By Katrina Scott on

There are so many amazing things that make summertime special. From beach days, BBQs and camping trips to days spent at sea, summer months are meant to be savored and enjoyed. Whatever your favorite sunny day traditions are, now is the time to start planning & thinking about those outdoor adventures! If you happen to love the open sea like we do, plan a day out on a boat...
Today we're sharing our favorite boat snacks, bites & nibbles! These are healthy, delicious and perfect for sharing with friends & family.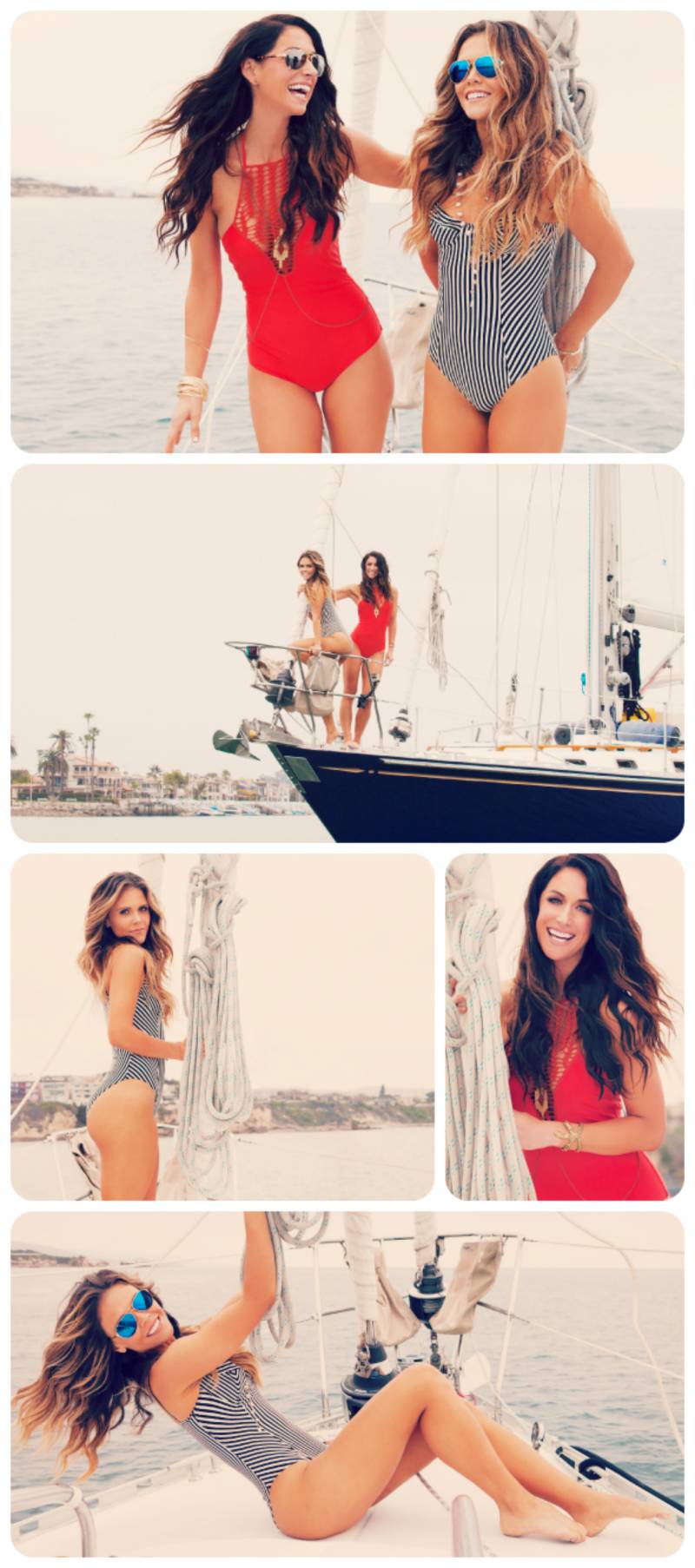 Karena's suit is Acacia in Red. Katrina's glasses are TIU Oakley on BeachBabe.com & bodysuit is American Apparel :) 
Delicious bites, crisp wine & summertime☀
Naughty Nautical Cocktail
Serves 2 to 4
Chill a bottle of your favorite Sauvignon Blanc.
Freeze a bunch of organic grapes. Once frozen, place in the bottom of a chilled wine glass and top with your favorite wine. Try an organic, sulphate free version like Coturri Family or Morgon by Marcel Lapierre.
Spritzer: add equal parts wine & kombucha (plain or ginger flavored).
Cucumber Rafts
featured from the Beach Babe Edition of your Tone It Up Nutrition Plan!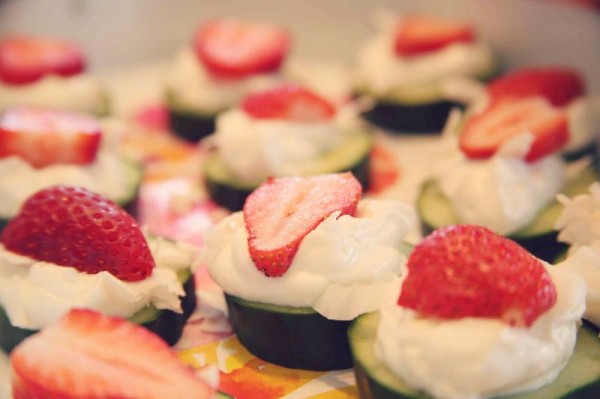 Serves 4 to 6
Ingredients:
1 Cucumber
1 Container of Plain Greek Yogurt
1 Container of Strawberries
1 Cup of Dried Coconut Flakes, Unsweetened
Gently wash the strawberries and cucumber, and pat dry. Slice the strawberries and cucumber into 1/4" thick slices. Arrange cucumber slices onto your serving platter. Take a teaspoon and place a dollop of yogurt on the slices. To finish, sprinkle the top of the strawberry with dried coconut.  For a fun twist, try dusting with cinnamon or adding a mint leaf.
Lifesaver Rolls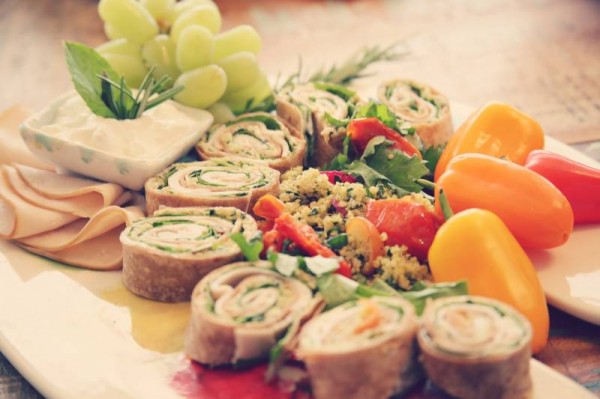 Serves 4
Ingredients
 3 Large Whole Wheat or Ezekiel Tortillas
3/4 Cup Plain Greek Yogurt
6 Slices of Roasted Turkey Breast Slices
3/4 Cup Cooked Quinoa
1 Cup Spinach leafs
1/3 Cup Diced Roma Tomatoes
2 Finely Diced Scallions
Fresh Mint
Fresh Basil
Olive Oil
Red Wine Vinegar
Toothpicks
Lay out all 3 tortillas on a flat surface. Divide the yogurt into thirds and spread evenly onto the tortillas,  stop about 1/2" from the edge. Take the fresh mint and basil leaves together and finely cut with scissors to top the yogurt. Divide the spinach into thirds and layer on top. In a separate bowl, mix the cooked quinoa with tomatoes and scallions. Gently drizzle the olive oil and red wine vinegar on top. Mix together. Place 1/3 of a cup of the mixture over the spinach layer.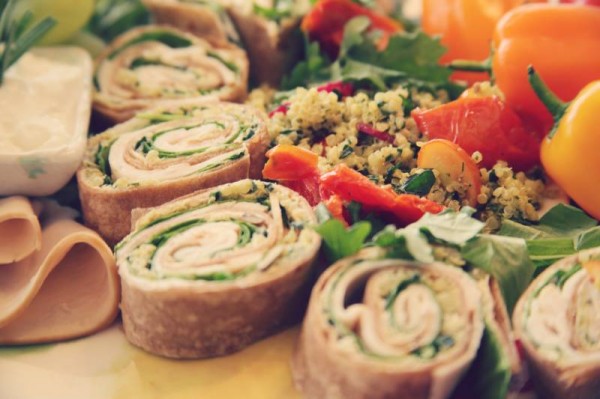 Slice the turkey breasts in half and add as the final layer. Starting from one end, start to roll the tortilla making sure you keep the roll tight. Secure the end with a toothpick. You are now ready to start cutting into rolls.  Cut off each end and eyeball approximately 1 1/2"  then start cutting. Make sure to secure them with toothpicks, but don't forget to tell your hungry guests that they are there! :)
Starboard Platter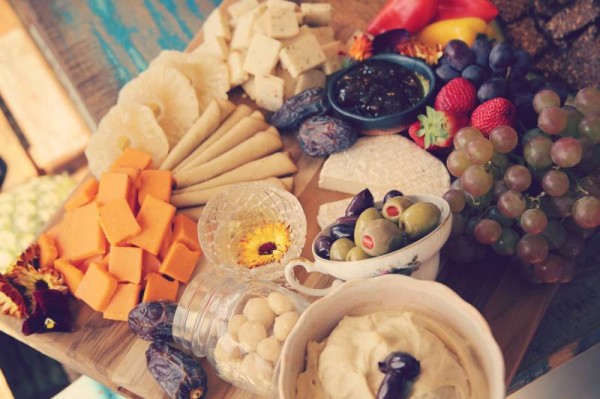 Serves 6-8 You can never go wrong with a beautiful cheese platter! Be daring this summer and add a healthy spin to this party pleaser by using vegan meats and cheeses. Ingredients
1 Bunch of Grapes
1 Container of Blackberries
6-8 Strawberries
Mini Bell Peppers
1/2 Cup Macadamia nuts
4 Figs halved
Dried Fruit
Handful of Dates
Fresh Fruit Preserve of your choice
Raw Organic Honey
Mixed Olives
Hummus
An assortment of Vegan Cheeses: 
Tree Nut, Bute Island Sheese, Kite Hill, Follow Your Heart are all delicious and readily available brands. Tofurky Oven Roasted Tofurky Hickory Smoked Baked Flax Seed Crackers Be creative with your platter decoration. Serve your preserves and honey in a teacup. Display your nuts in a mini mason jar. Creating a beautiful platter arrangement is half the fun, so let your imagination run wild. You can alter the portions for the number of people you are entertaining.
Winnipesaukee Boats
Serves 4 to 6
Ingredients
1 Endive Head, washed
2 Cans of Albacore Tuna, Water Packed
1 1/2 Tbsp of Vegenaise
1/3 Cup dried Cranberries
1 Stick of celery, Chopped
1/2 Apple, Diced
1/4 Tsp. Wasabi Paste ( Optional)
1/2 Tsp Raw Honey ( Optional)
1 Tsp Bragg's Liquid Aminos
Fresh Dill, chopped
Lemon
Cut off the base of the endive head and peel off the leaves keeping them in one solid piece. Rinse tuna and place into a bowl. Add diced apple, dried cranberries, chopped celery, vegenaise, wasabi paste, liquid aminos, juice of one lemon, and chopped dill. Mix ingredients together and then spoon into endive boats. To finish, top the tuna mixture with a baked multi grain triangle chip.
S.O.S ~ Salad of Summer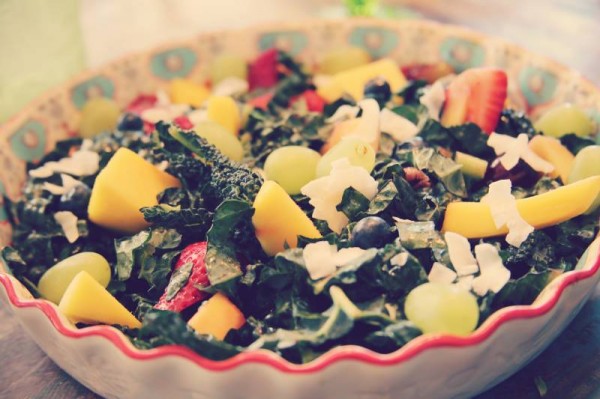 Serves 4
Ingredients
2 Bunches of Kale
1 Mango, chopped
1 Cup Grapes
3/4 Cup Blueberries
1 Cup Sliced Strawberries
2 Lemons
1/2 Cup Dried Coconut (Substitute: Fresh Coconut meat)
Sunflower Seeds
1/3 Cup Sprouted Lentils
1 Tsp Agave
3 Tbsp Nutritional Yeast
2 Tbsp Apple Cider Vinegar
1 Tbsp Liquid Aminos
Olive Oil
Wash and dry kale leaves. Remove the spine if you do not like it as part of your salad. Roughly chop the Kale and place into a bowl. Use the juice of one lemon and massage it into the kale with agave, let sit for 15 minutes while you prep the rest of the ingredients. This breaks down and softens the kale.  Add the remaining ingredients and the juice of the second lemon. Drizzle with olive oil, toss and serve.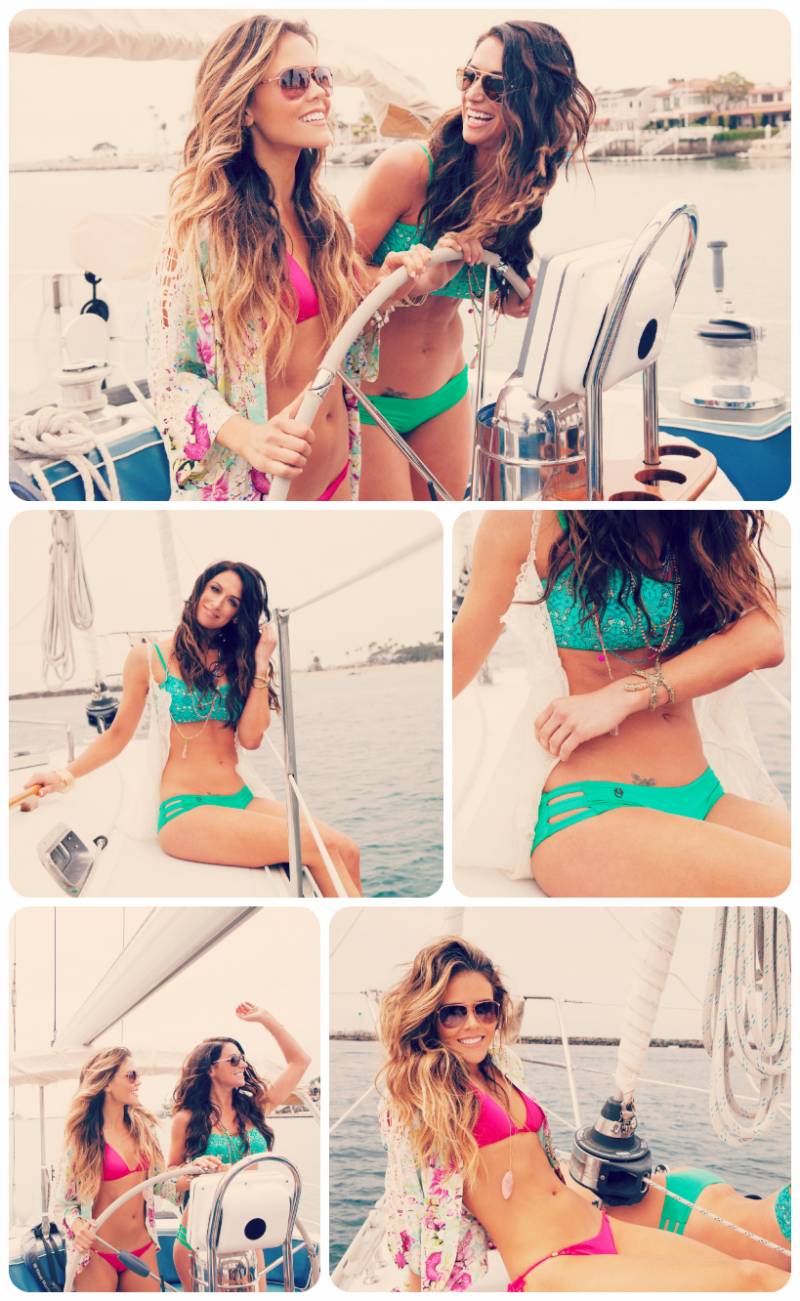 Katrina's suit is
VIX from Revolve
, necklace and kimono is from
LF Stores
. Karena's bikini is Maaji, lace tank is
Urban Outfitters
and bracelet is from
BeachBabe.com
! :)
Join the Tone It Up Nutrition Plan today and become a Tone It Up Team MEMBER!!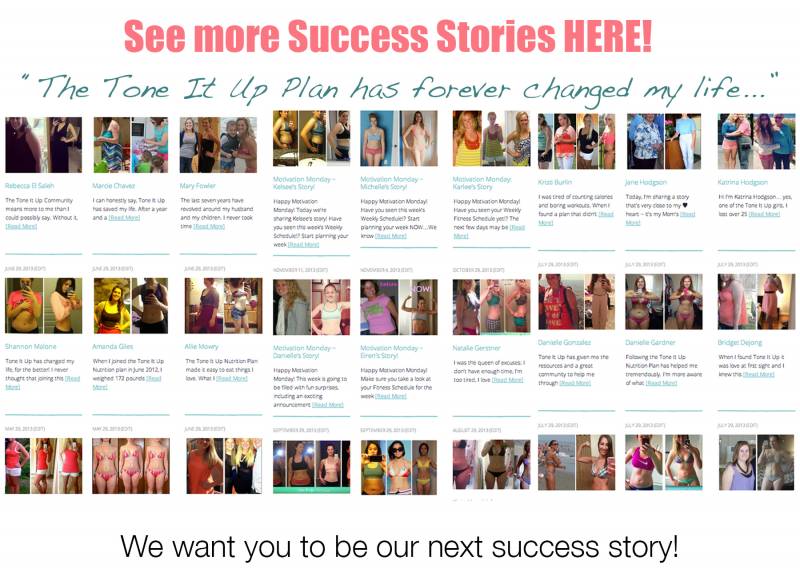 Ahoy! Summery Boat Snacks :) - - - There are so many amazing things that make summertime special.