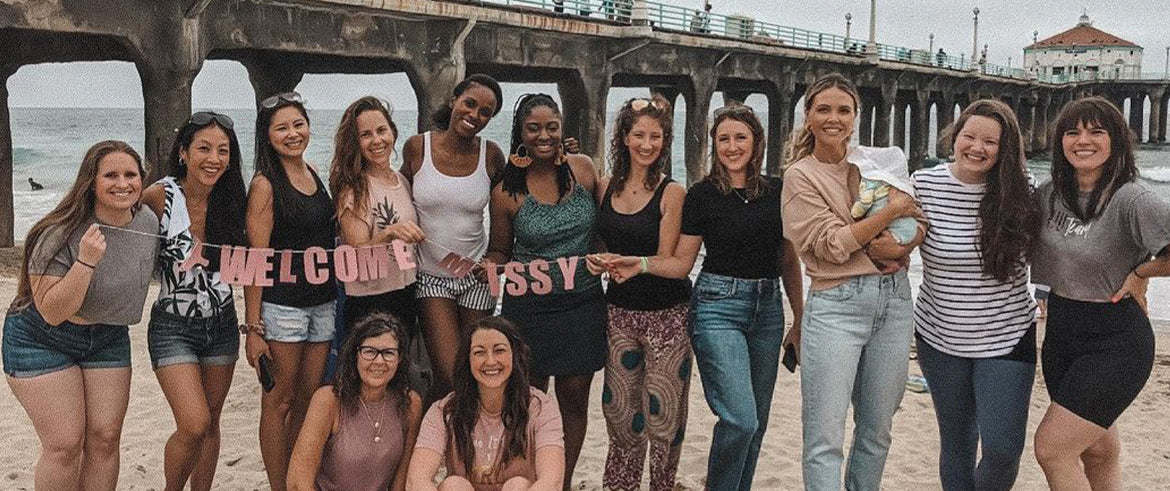 6 Tips To Plan The Ultimate TIU Meetup
By Tone It Up on
Last weekend, Brian and I crashed a TIU meetup on the beach and it was incredibly special! Seeing girls from this community come together, hug old friends, make new ones, meet girls in person they've been talking to online for years, laughing, supporting each other...this is what TIU is all about 💛
It's been amazing to see so many TIU meetups recently. We see you crushing your workouts as a team, going on walks and hikes, taking classes together, planning beach hangs, and doing happy hours. Every time a TIU meetup pops up on our feed, it puts the biggest smile on our faces!
Planning meetups is a fun and super rewarding way to make new friends, deepen your connections in the community, and hold yourself accountable to your goals. What's so amazing about Tone It Up is that you're not only achieving your wellness goals, you're also making lifelong friends to be a part of your journey. 
If you've never attended or planned a meetup, this summer is the perfect time to start! We're sharing our tips for making your next meetup extra special! 
---

6 Tips To Plan an Unforgettable TIU Meetup 
Put yourself out there
If you're new to the community or never met up with anyone in person, we get that it can be a little intimidating. The thing about TIU girls is that we're a loving, welcoming, and open-hearted bunch. This team is full of incredible women who can't wait to meet YOU! 
Even if you're a little nervous, we encourage you to put yourself out there. Attending a meetup in your area or planning a coffee date with just one or two girls is a great place to start. You can find girls in your area by searching the hashtag #TIUyourcityorstate. For example, #TIUatlanta or #TIUsocal. Once you find girls near you, start commenting on their posts or slide into those DMs 😂  Girls will be so excited to hear from you!
Pick a spot for your meetup
Your meetup could be in-person at a local park, beach, hiking trail, fitness studio, coffee shop, or restaurant — depending on the vibe you're going for! The meetup could be in your hometown, or we've also seen girls plan a weekend getaway to meet friends in other parts of the country. 
If you prefer, you can also plan a virtual meetup to do a TIU app workout or meal prep session over Zoom or FaceTime. 
Put the word out
If you're planning a bigger meetup, post about the gathering on IG and make sure you use the hashtags #TIUmeetup and #TIUyourcityorstate. DM the invite to girls you know of in the area and encourage them to share with friends!
Plan an activity
It's really fun to plan something active like doing a workout class together, going on a hike, or doing yoga on the beach. You can also do something artsy like a wine and painting night or a cooking class. Remember to leave time for relaxing, chatting, and getting to know each other ~ maybe over some rosé 😉
Add special touches
The Manhattan Beach meetup had a cute sign for a TIU girl visiting from out of town ~ it was so sweet! You can make signs, plan to wear your TIU gear or coordinating outfits, or even get cute props to take pics with. 
Share all the pics
This is a BIG one! Make sure you snap lots of pics and tag us on IG @toneitup with the hashtag #TIUmeetup. We want to see all of you girls together!!
---
You can find and connect with even more TIU girls in the community section of your TIU app! Invite friends to join the community too! 
GET THE APP