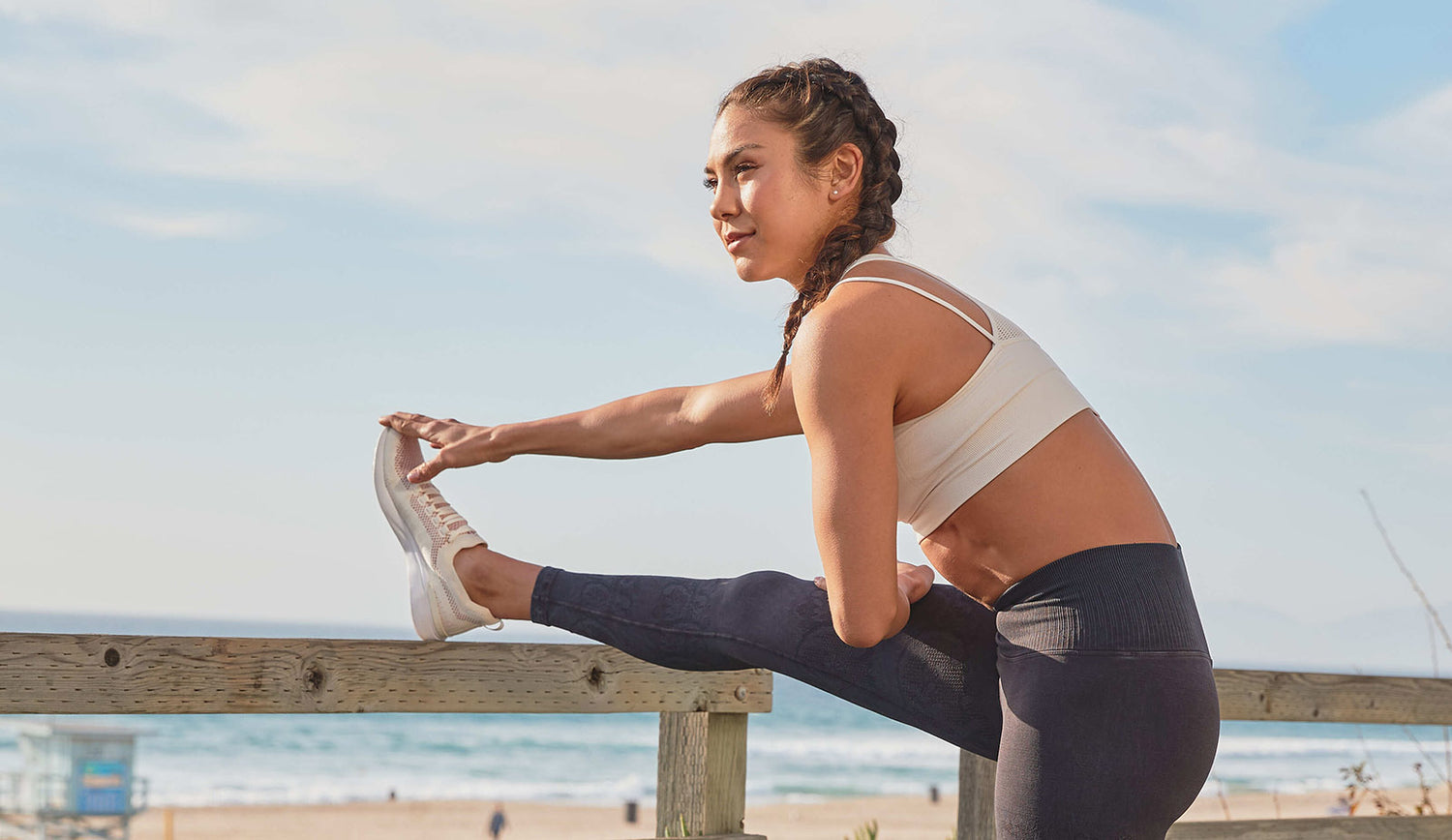 Your 5K Training Plan Starts Now! #TIU5K
By Katrina Scott on
Calling all TIU runner babes! Whether you've set your sights on running your first 5K, or simply want to ease back into running, we've got just the plan for you! Created by Tone It Up trainer Stef, this beginner-friendly 5K training plan is designed to build your cardiovascular endurance, strength, and confidence in just 4 weeks! 
Are you in?! Download the Tone It Up App to find your complete 5K program, including all your running, cross-training, and recovery routines. That's right, this all-in-one plan isn't just running! You'll get strength training, yoga, and mobility workouts to make you a better, faster, and stronger runner — all while staying injury-free! You can also print out the plan below to keep yourself accountable in more ways than one. 
We're starting on March 1 and can't wait for allll the #TIU5K accountability as we log our miles together! And don't forget to mark your calendars for our virtual #TIU5K the weekend of March 27-28! Pick whichever day works best for your schedule, and let's cross that finish line as a team!!! PS don't forget to follow @studiotoneitupstef for all the training tips, inspo, and more. And keep checking in with us all month long with the hashtag #TIU5K! 
Tone It Up 5K Training Plan 
Click HERE to print in color, or HERE to print in black and white. 
Beginner Running Tips to Crush Your 5K
Ready to hit the pavement? Check out these tips from your trainer Stef to get the best results from your 4-week training plan.
Go at your own pace!

This is a beginner-friendly plan, including three runs per week. You'll start week 1 with run/walk intervals, and progress from there! Still not beginner enough? Feel free to add more recovery if you need it. Want a more intermediate/advanced approach? Add an extra strength or run day! 

Embrace your run/walk days.

Why run/walk intervals?

"

This program incorporates the run/walk philosophy in order to increase cardiovascular endurance, while taking the necessary recovery steps to stay injury-free as you adapt," Stef says.  

Choose your terrain.

Log your miles outside or on the treadmill — with this program you decide what works for YOU. And mixing up the surfaces beneath your feet does more than beat boredom — it's beneficial for your joints, too! 

Recover right.

We programmed yoga, foam rolling, and mobility workouts into your training plan to keep your body happy, healthy, and injury-free. "Your runs are important, but what you do before and after them can make or break your ability to keep improving," Stef says. Your week will also include one active recovery walk and one full rest day — enjoy it babe! 

Cross-train.

Your training days aren't limited to running. We love mixing in cross-training to boost strength, improve mobility, and get you moving in different planes of motion. "Cross-training with yoga, mobility, and strength routines from the

Tone It Up App

provide well-roundedness and restoration in between runs and keep each week fresh!" Stef says. Plus, it'll mix things up so you never get bored! 

Build gradually.

"Start short and slow! Increase your mileage little by little," Stef says. "The biggest mistake I have made with long-distance running was increasing my mileage too much from one run to the next. Even on those days when you say to yourself, 'I feel so good, I can definitely keep going,' be cognizant of the demand you're putting on 

your muscles and joints! Running is a high-impact sport. For longevity, train smarter!" 
Fuel for performance...and recovery!

As your training runs get more challenging, make sure you're not running on empty. We love to stay energized with whole, nutritious foods — check out the nutrition section of your

Tone It Up App

for all the recipe inspo! And aim to get your

TIU protein

in within 30 minutes of completing your workout for optimal recovery. 

Gear up.

Proper footwear can make or break your runs. "Running shoes with the proper support, cushion, and material for your stride, surface, and foot are necessary!" Stef says. For this program, we also recommend a foam roller, yoga mat, and dumbbells. 
We can't wait to run, train, cheer, and cross that finish line together as a TIU Team! See you in the App and on Insta every step of the way!! #TIU5K 
Start your TIU5K program by downloading the
Tone It Up App
. You'll get access to all your week-by-week training guides, follow-along workouts, nutritious recipes, and so much more!