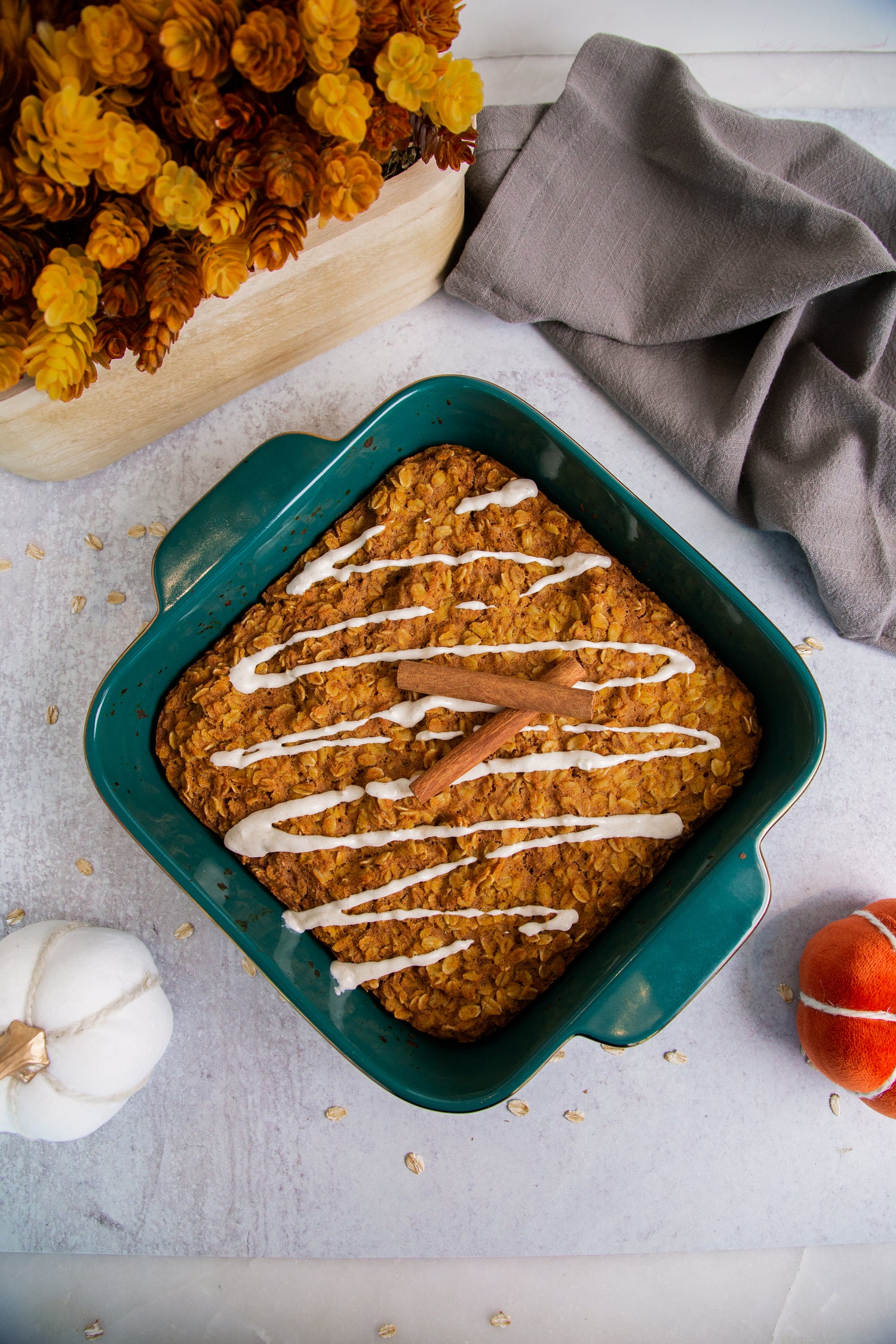 Pumpkin Baked Protein Oatmeal
By Tone It Up on
Servings 6
Gluten free, Vegetarian, Dairy Free
Ingredients
1 ½ cups quick-cooking gluten free oats

1 scoop of Tone It Up Protein Powder (vanilla)

1 tsp baking powder

½ tsp sea salt

1 tsp pumpkin pie spice

1 tsp ground cinnamon

1 cup unsweetened applesauce

½ cup pumpkin puree

1 large egg lightly beaten
 (Vegan: 1 TBSP ground flaxseed with 2 ½ TBSP warm water)
¼ cup pure maple syrup 

¾ cup unsweetened vanilla almond milk

1 tsp pure vanilla extract

​​Maple cream cheese glaze:

4 oz vegan cream cheese room temperature

3 TBSP pure maple syrup

¼ tsp ground cinnamon

¼ tsp pure vanilla extract
Instructions
Preheat oven to 350 degrees

Spray or line a 9x9" baking pan and set aside

In a bowl, mix Tone It Up Protein powder, oats, baking powder, pumpkin pie spice and the cinnamon and set aside.

In a separate bowl, mix together the applesauce and the pumpkin puree

Add in the egg and maple syrup and stir until well combined

Add the almond milk and vanilla until completely mixed together

Fold in the dry ingredient to the wet ingredients

Pour the batter into the baking pan

Bake in the oven for 30-35 or until the top of the batter turns golden brown

Remove from oven and set on rack to cool

Mix glaze ingredients in a bowl and use a whisk to make sure it is smooth and well combined.

Once cooled, drizzle the glaze on top!