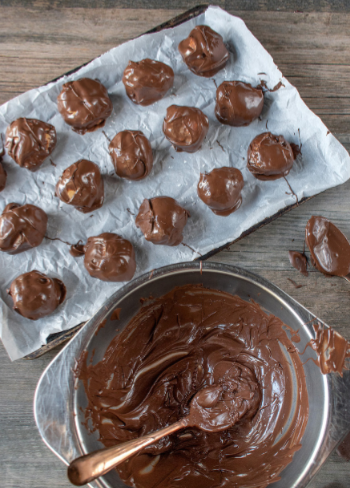 Peanut Butter Power Balls
By Tone It Up on
16 servings
Ingredients 
• 1 cup organic peanut butter 
• ¼ cup Tone It Up vanilla Collagen Creamer
• 3 tbsp coconut flour 
• 2 tbsp maple syrup 
• ¼ tsp pink salt  
• ¾ cup dark chocolate chips 
• 1 ½ tsp coconut oil  
Directions
- Line a banking sheet with parchment paper 
- In a medium-sized mixing bowl, add the peanut butter, collagen, coconut  flour, maple syrup and salt. Mix to combine. Using a tablespoon, roll into balls and  place them on the baking sheet. Repeat until the batter is used up and then place in  the freezer to harden for 30 minutes.  
- In a small bowl, add the chocolate chips and coconut oil and microwave on high for 30-45 seconds until melted. Stir with a spoon to fully combine. 
- Remove the Power Balls from the freezer. Using a toothpick or a form, dunk into the  melted chocolate about 2/3 of the way up. Place back on the backing sheet. Repeat  until all are dipped in chocolate. Place in the fridge to harden, about 20 minutes!  Enjoy!