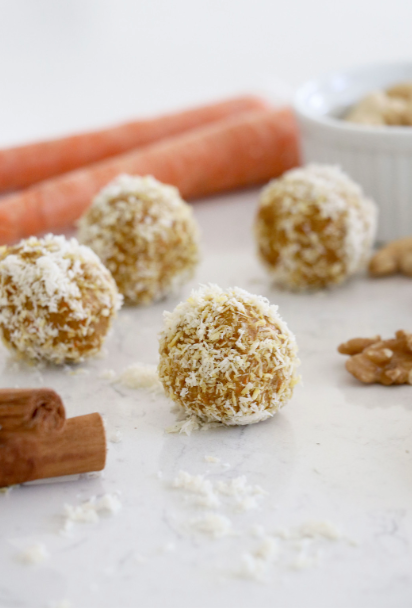 Carrot Cake Collagen Bites
By Tone It Up on
Makes 
15 Bites
Ingredients
1 large carrot, peeled and chopped
½ cup of rolled oats
½ cup of walnuts
½ cup cashew butter
½ cup unsweetened shredded coconut (plus ¼ cup more to roll bites in)
½ teaspoon cinnamon
¼ teaspoon ground ginger
¼ cup water 
1 scoop Tone It Up Vanilla Collagen Creamer or Vanilla Protein Powder 
Instructions
Add the carrots and oats into a food processor and pulse together. 
Then add all of the remaining ingredients and pulse together to form a sticky batter. 
Scoop out 2 tablespoons of batter at a time and roll into small balls.Then roll balls into unsweetened shredded coconut and place in an airtight container. 
Let set in the freezer for 1-2 hours.
Keep stored in the refrigerator for up to 5 days or freezer for up to 2 months.