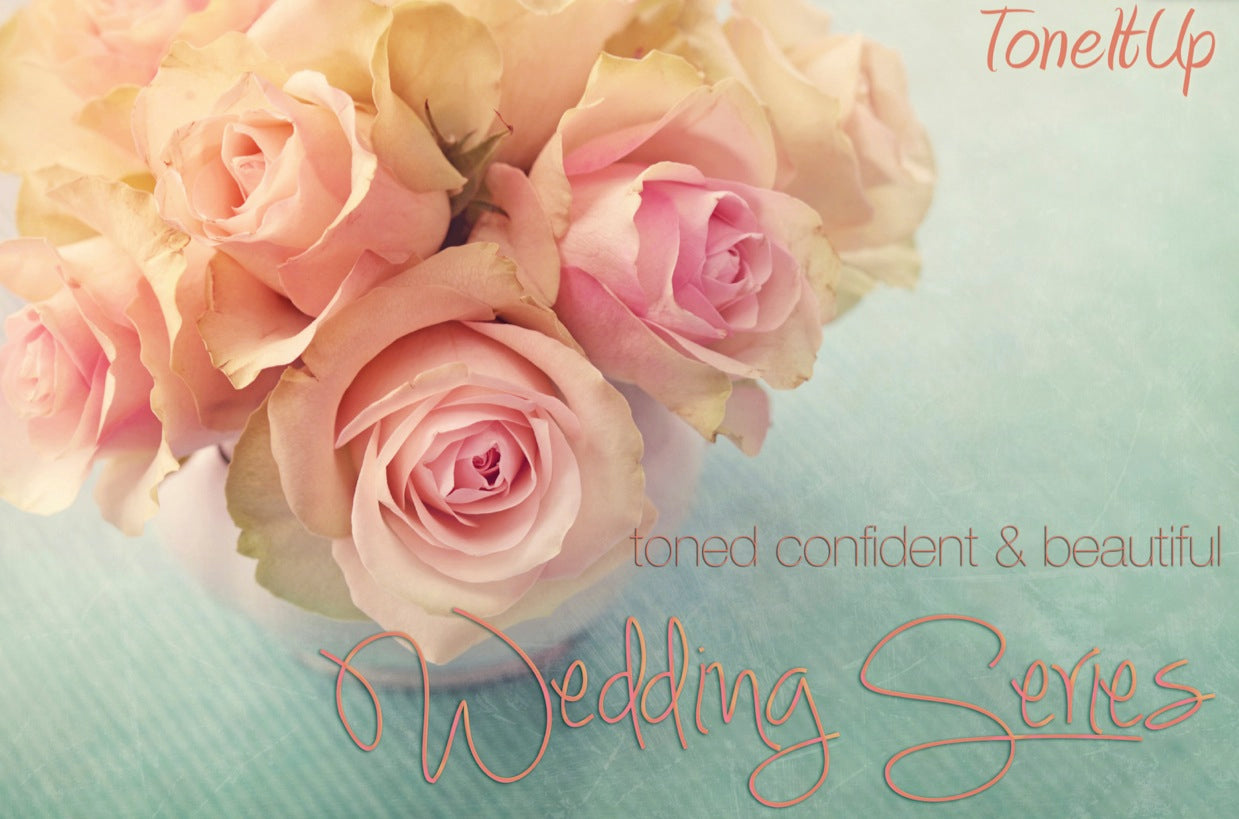 The Wedding Series!
By Katrina Scott on
To receive Wedding Series updates, emails & tips~ sign up here!
Also, the email address associated with the series is WeddingSeries@ToneItUp.com, be sure to add it to your address book!
Our first post was our proposal video...
If you didn't see it ~ watch here :)
See the entire story from the proposal on the 1st wedding post here
Today, I'm talking about a few different Wedding Related topics!
Getting into Bridal Babe Shape with me, including; goal setting for that dress, how to start planning and tips to stay on track with your Nutrition Plan when you're stressed! ;)
To all our brides- You're going to be
breathtaking
,
glowing
and
absolutely stunning
on your wedding day! We want you to feel the most confident and beautiful you've ever felt - this is your Big Day!!!
Goal setting for that wedding dress
✓ Build an inspiration board! This is so important to know what inspires you! Do you have Pinterest? Make a 'Tone It Up Wedding Series' Board and post inspirational wedding day photos to motivate you! It helps when you're having a low energy day. Share your board with us! Ours is here TIU Wedding Series. Also - take a screen shot of it and make it the background to your phone :)
*Don't have Pinterest? Make an inspiration album in the community!
✓ I challenge all my TIU Brides & Bridesmaids to (at least) 2 miles per day!!! Whether you run it, walk it, elliptical or cycle it. If your cycling, take your total mileage and divide it by 3. When you're 14 weeks out from the wedding, we want you to complete 14 miles per week... that's #200byWedding!!! YES!! 200 miles by the wedding day! It's an average of 2 miles a day. Miss a day? No worries :) Just add on a few miles the next day. Make sure you complete your 14 miles per week. We KNOW you can do this. It is a good way to help de-stress, AND it's great for your body (just keep thinking of that dress!)
Every day we want you to do something to sweat :) YES, everyday!  Your 'rest days' will be a walk, stretch, yoga class, your foam roller workout with us - something! This way it's still part of your routine and it becomes a habit. Yoga will help ease your mind, and remind you of all you are thankful for too. Namaste <3
✓ Find Motivation! You can find motivation from us and the community here ~ community.toneitup.com, on Twitter twitter.com/ToneItUp, Facebook facebook.com/ToneItUp and on instagram :) We'll also be posting a lot right here, on the blog!
✓  Tone It Up for your dress... & honeymoon bikini! ;)
Whether it's 'Fit 'n Flare,' 'Mermaid,' 'A-Line'... visualize how you want to feel. Have you done any dress shopping? What area do you want to tone up? Depending on what style dress you decide on, you'll want to really focus on certain areas ~ I made this chart below to make things easy for you!
Keep in mind... we still want you to focus on total body workout routines, especially for your honeymoon, but adding in a few focus points will be super helpful! We'll be releasing some bridal workouts and we also created a Wedding Series Playlists with our videos!  All total body toning, abs, buns, thighs, arms, shoulders... everything!  Add your favorites to your weekly scheudle.
Also make sure you follow the Weekly Fitness Schedule. It is posted every Sunday so you can plan your week ~ Preparation = Success!
A couple of you have asked about 'spot reducing.' While you can't 'spot reduce,' you can spot sculpt by adding muscle tone! When you shed a layer of fat from cardio and nutrition, it's best to have lean muscle to smooth out your arms, abs and the backs of your thighs. So, YES ~ what you're doing is WORKING!!!
Remember, the Beach Babe DVD has 7 workouts that focus on abs, booty, arms, long & lean stretching and cardio.
A few ways to reach your goals...
✓ Ask one of your bridesmaids to join you for your workouts! Hold each other accountable!
✓ Ask your future hubs to join you for the challenge! Be a fit couple together ;)
✓ Check-in with your TIU community! The hashtag for the team is #TIUteam and for brides it's #TIUbride You can also tag #TIUbridesmaids
Looking for TIU girls in your area?  We have groups in the community!  Along with a new 'Brides & Bridesmaids' group in the community- which of course includes all you mothers of the brides too! ;)
How to stay on track with your Nutrition Plan when you're on-the-go and really busy
With all of the tastings, busy weekends and no time to think about nutrition~ we want you to grocery shop and prepare snacks and meals on Sundays!  It may take an hour or so, but you'll feel much better the rest of the week.  A lot of you said even though you were really busy in the beginning of this year, the Love Your Body Challenge kept you on track and you felt more organized, accomplished and in control.
We recommend reading these Tone It Up Nutrition tips to guide you!
~Planning~
Planning a wedding ~ I didn't know where to start! We actually enjoyed being engaged for a while... and then BOOM!!! Everyone was asking us... "When is your Date? Where's the venue?" and now the latest..."WHERE'S YOUR DRESS!? You don't have one yet!?"
Holy smokes, I had no idea how prepared you need to be and how time flies when you're engaged!  We haven't been stressed out at all... we just kind of "rode the wave" of being engaged, but now it's time to start planning! I have to admit, it's hard after a long day of work, to sit and plan an entire wedding right before bed. Weekends have been filled with other weddings, birthdays, holidays, trips and fun events, but now more than ever, we need to start making things happen, because we SET OUR DATE!!!  It's in August! <3
So... I don't have a dress, caterer, DJ, band, chairs or a florist and I'm 6 months out! I can make it happen right!? Brian joked and said - what if we say BYOC + A?  Bring your own chair and alcohol.  Ha ha ha, classy - but no hunny :) He's had a great sense of humor throughout this process.
My biggest suggestion to get going is to hire a wedding planner! They are the experts! They take a lot of the stress away from you ~ and you can enjoy the fun stuff :) I asked around town for weeks and was referred to the same planner over and over from my friend Sarah and 6 other people!! Some of you may remember pics from Sarah's wedding on instagram from this past fall :) My planner is also my brother's neighbor - 100% coincidence! One day I was talking on the phone with my planner on my brother's hammock, and she walked right past us! We just looked at each other on our phones and started cracking up.
Anyway, I really recommend finding a planner from referrals, because you never know what you're going to get.  My planner's name is Constance Curtis, you may have heard of her ~ she's in Southern California. If it weren't for her, I would be a frazzled mess. She put together a check-list and a wedding binder for me and she's setting up meetings for us, so we just have to choose from her best options. She's also going to be really hands-on during the day of the wedding, planning and organizing everything so I just have to focus on walking down the aisle and getting married! The biggest thing that got me is her unlimited emails and phone calls included in her package ~ she had me at unlimited! Anyway, if any of you are looking for a fantastic wedding planner, you will love Constance. I'm okay with sharing ;)
Another huge help is LaurenConrad.com! One of our favorite gals there, Alex, is also getting married in August! She's an amazing fashion and beauty editor and she has exquisite taste.  Alex shares some awesome wedding planning tips, documenting her process along the way.
Here's this great graphic to put planning into perspective :) To see all of her planning tips go to 'Wedding Bells ~ Alex plans her big day!'
More updates coming this week...
Warmest, Katrina
Some TIU Brides & Bridesmaids! #TIUbride
To receive Wedding Series updates, emails & tips~ sign up here!
Also, the email address associated with the series is WeddingSeries@ToneItUp.com, be sure to add it to your address book!