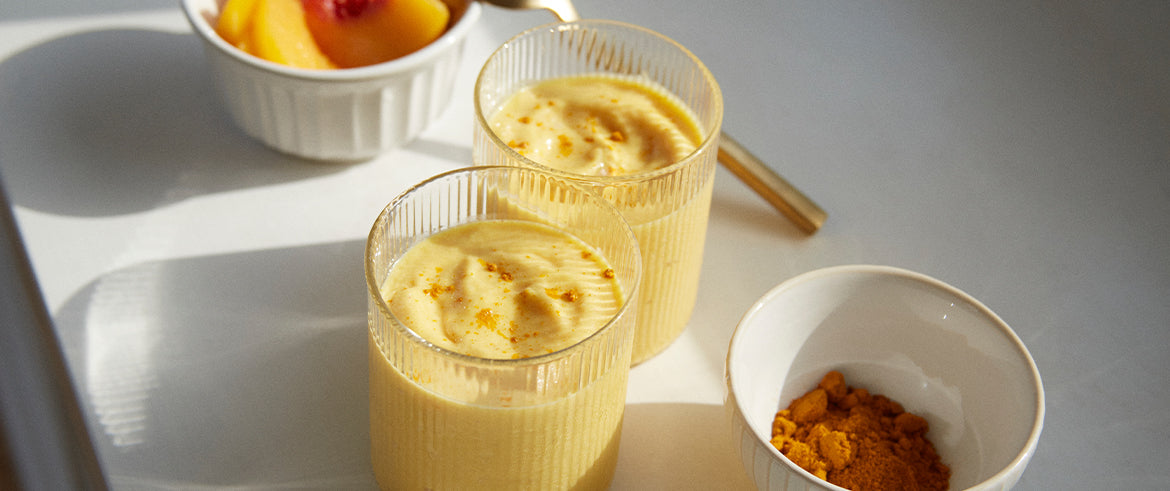 Refreshing & Easy 6:40 Smoothie Recipe
By Tone It Up on
Have you seen your new Tone It Up 6:40 Meal Plan?! 
Your 6:40 Meal Plan comes with your program in the Tone It Up app! (You can learn more about the program and sign up here.) In the meal plan, I laid out my all-time favorite recipes and added some new and delicious meals that you and your whole family will love! 
One of my absolute favorites is the 6:40 Smoothie, so I thought I'd give a sneak peek! It's so refreshing and perfect for summer with the mango and peaches 🍑 Plus, it's packed with beauty-boosting collagen and clean, plant-based protein (you get an extra dose of greens from the Protein + Greens too). This recipe also has amazing anti-inflammatory benefits thanks to the turmeric. (Did you know that a pinch of ground black pepper helps your body absorb turmeric?) 
Blend up this smoothie right after your 6:40 workouts to help your muscles replenish and recover and form new lean muscle. This is about to be your new post-workout go-to! 
Enjoy, beautiful!
xxo,
Kat
---

6:40 Smoothie
Makes 1 serving
INGREDIENTS
1 scoop

Tone It Up Protein + Greens

1/2 cup frozen peaches
1/2 cup frozen mango
1/2 cup frozen riced cauliflower
1 Tbsp. cashew butter (or nut butter of your choice)
1 tsp. turmeric
Pinch of ground black pepper
1 scoop

Tone It Up Collagen

(optional) 

1/2 cup water or plant-based milk 
DIRECTIONS
Combine all ingredients in a blender and blend until smooth.
---
Looking for more easy and delicious recipes to support your busy lifestyle? Check out the full 6:40 Meal Plan for more amazing recipes just like this one, plus meal-by-meal guides, grocery lists, and nutrition tips! Sign up for the program to get your meal plan HERE!