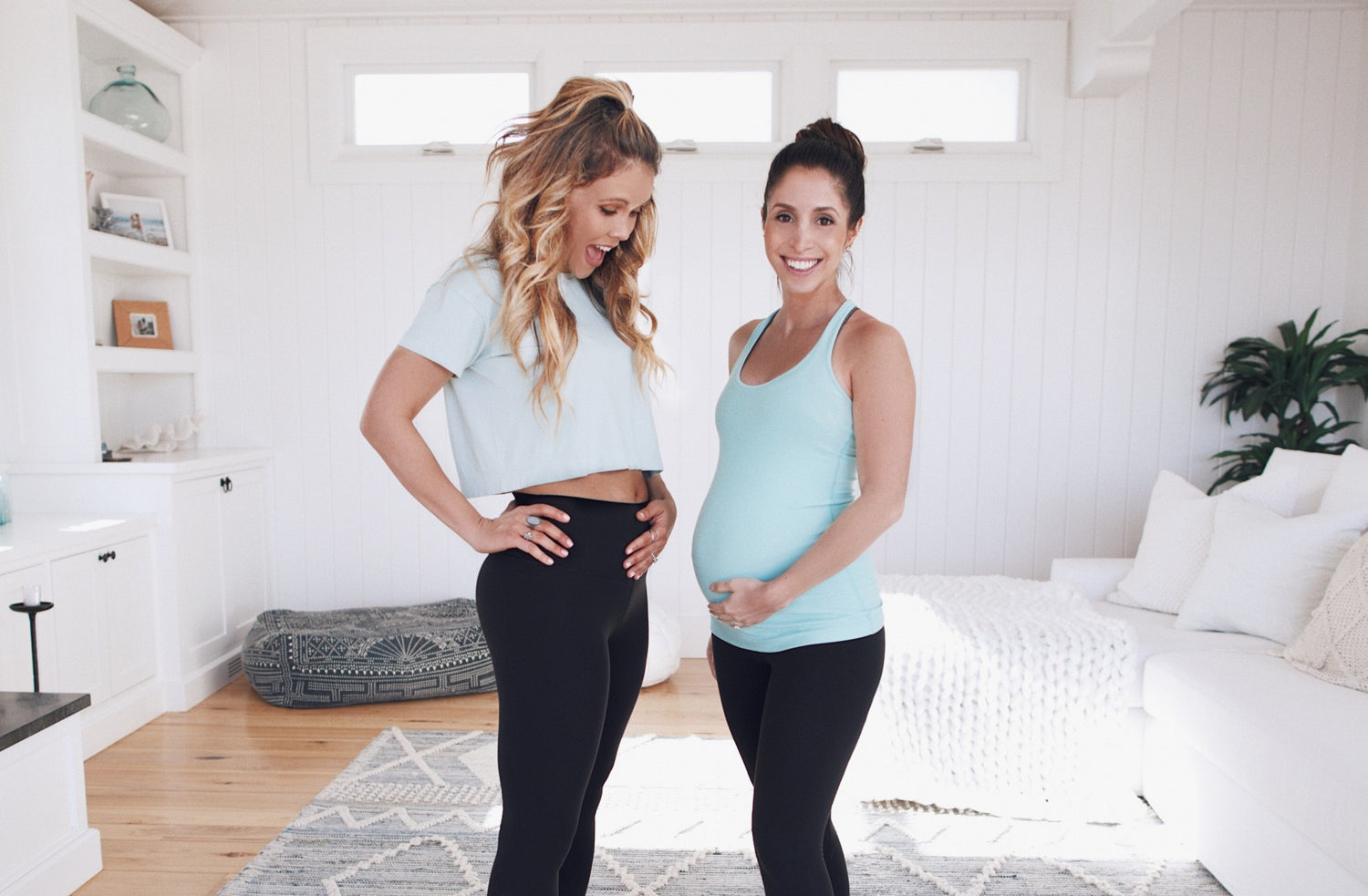 My Fertility Journey and Path To Motherhood ~ Your Trainer Kristina Shares Her Story
By Katrina Scott on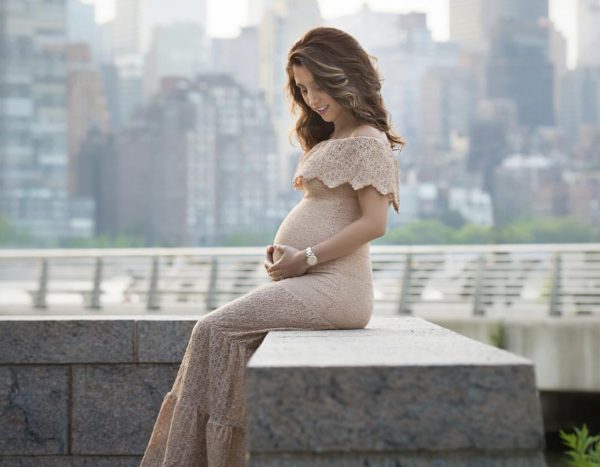 Hey babes! I'm your TIU App trainer Kristina. As I type, my 5 1/2-month-old daughter Madison is napping upstairs. To say I am obsessed with the baby monitor is an understatement — I am constantly looking over at it wondering, "Is she comfortable? Did she just move? Oh…ok she's fine." I bet many moms out there are doing the same thing or reliving the past! But there are also probably many of you who are feeling exactly like I was two years ago. I'd see a mother and all I could think was, "why can't I be one too?"
Let's start from the beginning. For the first DECADE of my husband Mike and I being together, I thought of all of the ways to avoid getting pregnant. No babies, not yet! We have to travel, work, be selfish, do STUFF. Finally, while living out in California, we bought a house in the beginning of 2015. We painted all but one room and left it bare because we hoped that someday soon we'd fill it with a beautiful baby.
2015 came and went with no pregnancy. By March 2016, I knew it was time to get serious. My doctor suggested I try Clomid to see if it would help me ovulate — it didn't.  So we doubled it, even tripled it, but not once did I ovulate. After maxing out my attempts at Clomid, my OBGYN put the names of three doctors on a sheet of paper. I knew exactly what they were — specialists. I asked him who he recommended and he suggested I call from the top down. I got an appointment with the first doctor listed for August 2016.
In August, we studied my blood work and my tubes (OMG that test hurt). All we could gather was that I was not ovulating. It was almost as if when that time of the month came around, all my follicles would point to each other and go, "You go, no you go, wait I thought it was your turn? Ah forget it, we missed the window." I had a surplus of follicles, so we decided to try Intrauterine Insemination (IUI). The goal of IUI is to increase the number of sperm that reach the fallopian tubes and subsequently increase the chance of fertilization. I had to do a few shots into my abdomen that I insisted on doing myself, but Mike was there every time just in case I decided to bail out. The last shot was — ready for this? — on the last night of the 2016 Tone It Up retreat! Within 48 hours I was at the doctor's office for my IUI procedure. All I had to do for the next two weeks was cross every finger I had.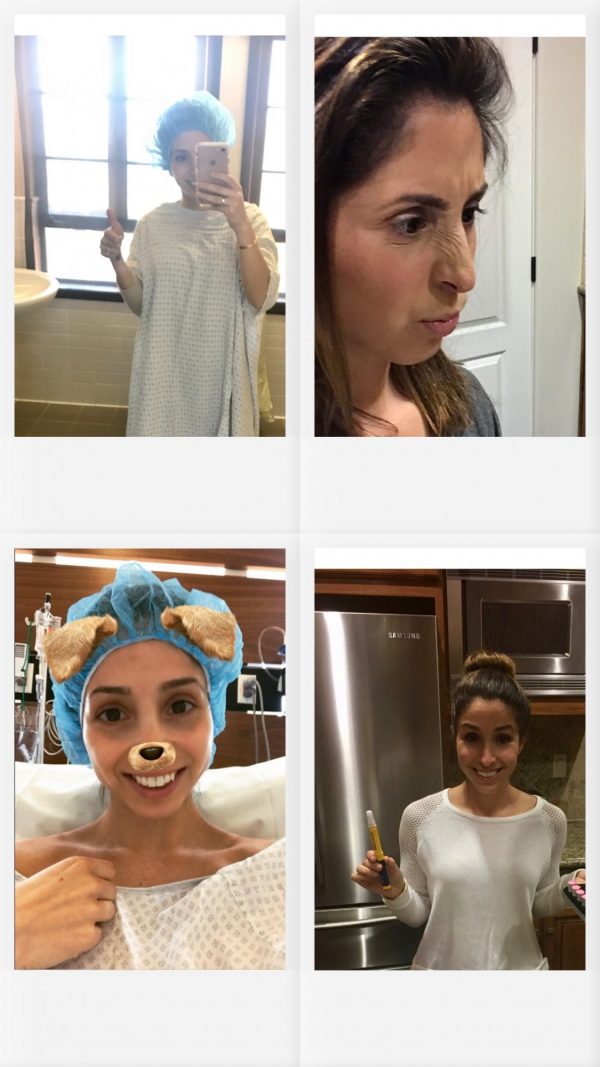 It worked! I got my test results back and I was pregnant! We were so relieved; we thought we'd be in this for a LONG time and the first try worked! We saw her on weeks 6, 8, and 9 growing like a champ, looking like a gummy bear. At my 12-week appointment, I had a bizarre feeling so I asked to come in a little early. Mike was traveling for work, but he attended every other appointment so we were not worried at all about me going alone. The nurse attempted a sonogram, and then told me to lay down so they could do an ultrasound instead. I didn't think anything of it. I put my feet in the stirrups and turned to stare at the screen. There she was, my little gummy bear, without a heartbeat. That moment is still a blur. I was told to get dressed and meet the doctor in the office to talk this through. I called Mike before I got dressed and all I remember saying was "it's gone" — pants-less I hit the ground screaming. Mike couldn't have gotten on a flight faster.
Two days later, I had a procedure called a dilation and curettage (D&C). One month later, I had to have another for the same pregnancy. The beginning of 2017 was awful. What happened? Why did it happen? And the worst feeling, what did I do wrong?
I want you to know that if you are here, YOU DID NOTHING WRONG. I did nothing wrong. We found out 1 month after the D&C that our sweet girl was diagnosed with Trisomy 21, and sometimes those pregnancies are simply unable to continue. There is no way of knowing, no way of preparing. The best thing you can do during this time is talk to those you trust and be with your significant other. I don't want to say you move on, I still think about her constantly, but it gets easier. I promise.
While back with my specialist, we determined that because I didn't ovulate many of my follicles were considered risky (I thought of them as "expired"), which could result in future miscarriages. Therefore, we proceeded with IVF with PGS testing. PGS testing would let us know if our embryos could potentially result in a healthy, sustainable pregnancy. Now let me tell you, the IVF process is NO JOKE. Hundreds, I mean HUNDREDS of shots to my abdomen and buttocks happened over the span of 2017. After everything was said and done, we had 12 perfectly healthy embryos ready for action.
Our first two attempts resulted in miscarriages as well — both happened early and naturally. The second one happened at a boxing studio right before I was about to audition. Needless to say, none of what happened over the summer went in our favor. Every month I got continuously more frustrated. I couldn't help but ask myself, "am I ever going to be a mother?".
Completely confused, we agreed to running lots of tests. We discovered that (in addition to the whole not ovulating thing) I do not absorb folic acid well, which is essential to maintaining a pregnancy. Also, I required more time before my embryo transfer. Most bodies are primed and ready by day 5 of medicine. They performed an endometrial receptivity test on me and I was NOT receptive after day 5. We found my window and tried for a third time. My third attempt is currently waking up from her afternoon nap.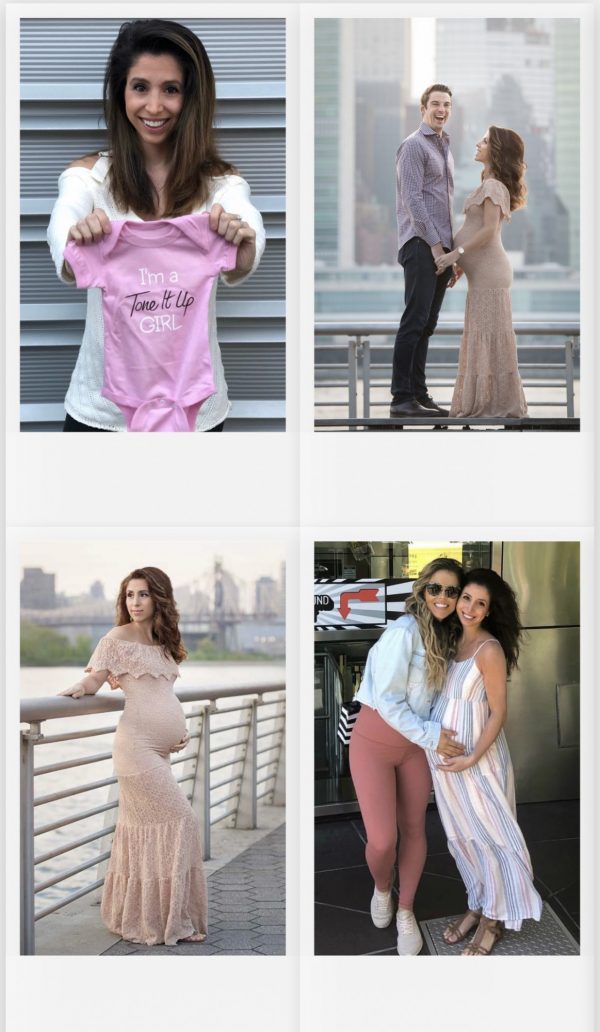 I LOVE my body because it created a life. A life that, for years, I thought only lived in my dreams. But in the beginning of 2018, I would be reminded by her little kicks from inside of me that she would always be with me. She would be with me when I was reading my baby books, when I was re-organizing our closets in preparation, when I was lying in bed designing her nursery. While it took longer than anticipated, somehow in the end it felt like she timed it perfectly. On July 29, 2018, we couldn't have been more ready to become parents.
Every journey to motherhood is unique; it could take 1 month or 10 years — you simply do not know. When you're in it and it feels like every day lasts a year, I urge you to keep fighting. Yes, it's nearly impossible to think that way sometimes. I know because I WAS in it. Every negative test, every miscarriage, every procedure filled with confusion drove me deeper into this strong desire to be a mother. My mantra throughout those three years was "sunshine comes to all who feel rain." Those rainy years brought me someone even more perfect than my dreams — because she is REAL. Whether our babies are in school, in bed, angels in the sky, or dreams in our hearts, they are forever ours. And that is really special.
Sending lots and lots of love to you. And please know I am ALWAYS here to talk more or be a guiding light in your time of need! Kat actually encouraged me to share my story here and was there every step of the way, and I want you to know you're never alone. We and this community are always by your side.
Please share any questions or your own stories with me in the comments below or on Instagram. I'll be looking out for you 💗
xxo,
Kristina