Karena's Favorite Blueberry Vanilla Coconut Smoothie
By Katrina Scott on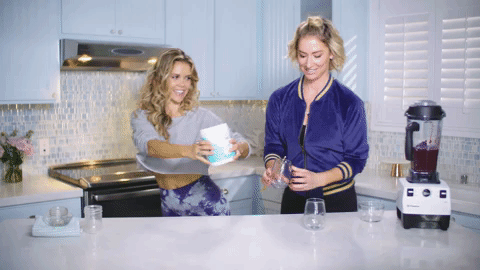 Hands up babe, it's Friday! 🙌🏻  Today we're bringing you into the HQ kitchen. Cooking is a passion of mine and I love sharing tips and exchanging recipes. When Kat and I lived together, I always whipped up dinners and smoothies for the two of us! One of my favorite things about the Love Your Body Series is getting to try my hand at so many new amazing and nutritious recipes. And cooking with girlfriends?! It doesn't get much better than that. Be sure to grab a babe and make this smoothie together today!
This recipe is so smooth and creamy AND it's packed with nutrients! Plus the Tone It Up Protein gives it such a sweet, tropical flavor ~ you'll have no idea it's loaded with greens! Whip it up for a protein-packed breakfast or post-workout treat!
And make sure you snap this gorgeous sip and share it with us on Insta! Cheers babe!
xxo,
Karena

You can also watch on YouTube & Apple TV HERE!

Blueberry Coconut Dream Smoothie
Serves 2
Ingredients:
2 scoops Tone It Up Vanilla Protein Powder
2 cups unsweetened coconut milk
2 cups spinach
2 cups frozen blueberries
1 frozen banana
1/4 cup unsweetened coconut
Directions:
Blend all ingredients and enjoy!
Nutrition Facts per serving:
19g protein / 42g carbs / 8g fat / 12g fiber / 312 calories

Feuling your body with the healthiest foods is a form of self-love and you deserve the very best! Join the Tone It Up Nutrition Plan to gain access to every edition of the plan, including the new Love Your Body Edition, plus your gorgeous new Lifestyle Kit!