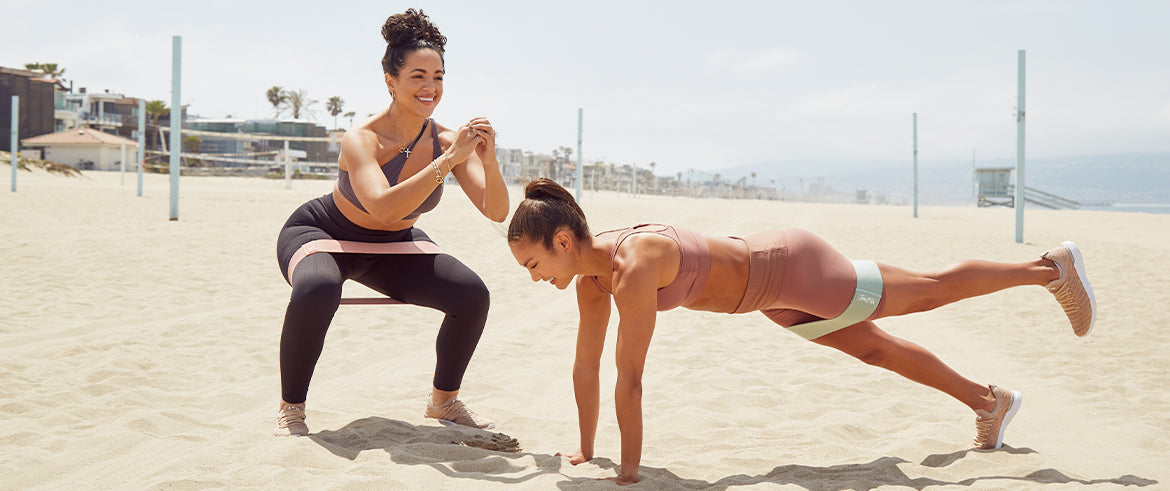 How to Find the Perfect Program for Your Fall Challenge
By Tone It Up on
It's #TIU2021 Fall Challenge time, babe! That means we've got six weeks of sweating it out together to look forward to — and we can't wait!
The start of a new season is always a great time to zero in on your wellness goals, whether you're looking to get strong, focus on stress relief, or simply get healthy and stay sculpted. You can also easily achieve those goals by the end of this challenge. The best way to do that? Choose a program in your Tone It Up app.
 With so many amazing programs available, it can sometimes seem difficult to choose the best one for your needs. So, we broke down a program plan for you right here. Consider this your no-guesswork guide to crushing your goals and conquering the fall challenge — at the same time! All you have to do is hit start. Get it, girl!
Your Goal: Get into a Regular Workout Routine
Find consistency and accountability with TIU workout programs, particularly these beginner-friendly plans that serve as a great intro to a frequent fitness routine. 
7 Day Jumpstart + Beach Babe + 7 Day Abs
For those new to working out, 7 Day Jumpstart is the perfect introduction to regular exercise. After you complete that week-long kick-off, you should feel ready for one of TIU's signature programs: Beach Babe. This four-week plan mixes all types of workout methods to keep you motivated. Wrap up your challenge with a week focused on your core — because who doesn't want to target that midsection a little extra?

Love Your Body 2020 + 14 Day Yoga Sculpt
Blend HIIT, yoga, strength and lessons on self-love all in four weeks with the Love Your Body program. When you're done, follow it up with two weeks of yoga-inspired workouts that strengthen, tone, and just make you feel amazing.
Your Goal: Build Strength
If you want to get stronger from head to toe, we have plenty of programs to get you there. Each one of these involves resistance training that works your arms, abs, and booty for one total-body program. Take your pick, then pick up those weights!

Tone It Up Strength
Just like the name implies, it's all about strength training in this six-week program. With the help of a barbell, bench, dumbbells, and weight machine (if you have 'em), you'll get fit and ready to take on anything.

Tone It Up 6:40
This is the busy woman's guide to getting strong. But you get more than resistance training. You'll also gain flexibility and better cardio, and you'll do some journaling too. All it requires is 40 minutes a day for six weeks.
Your Goal: Improve Cardio
Looking for more heart-pumping workouts? We've got plenty of cardio-focused options for you to kick up your training and have fun doing it.

TIU5K + 14 Day Slay
One of the best ways to improve your cardio: start running. The TIU5K plan will get you clocking miles in just four weeks. Round out your challenge with two weeks of HIIT workouts that take you through intervals for another efficient way to train your cardio system.
Your Goal: Connect Body and Mind

14 Day Yoga Sculpt + Toned Body Toned Mind
Elevating your fitness means getting both the body and the mind involved — and both of these programs will help you do just that! Start your fall challenge with two weeks of yoga and strength, then follow it up with another four weeks of yoga, meditations, and self-care work. The two plans provide the ideal match for strengthening your physical and mental state!

Love Your Body + TIU4YOU
Technically, putting these programs together means you're committed for eight weeks (four weeks each) — but why not keep the fitness party going even after the challenge ends? You'll build confidence and muscle with these two programs, designed to get your mind involved through empowering messages and guided meditations.