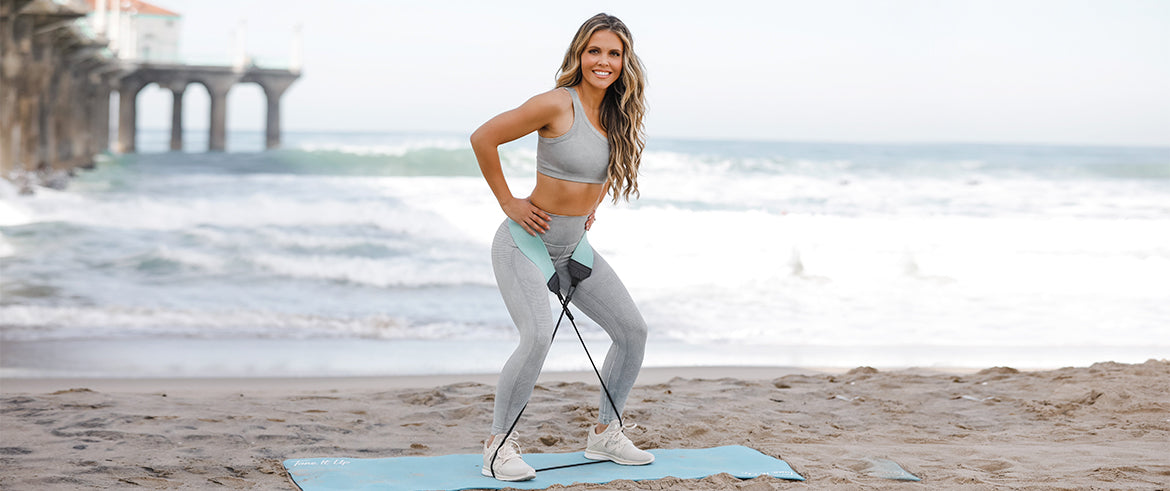 The Perfect Squat—Every Time!
By Tone It Up on
Your workout just got a major upgrade, babe! Introducing the world's first Squat Band — designed specifically for you, the TIU community! This compact, lightweight band adds the perfect resistance to your squat routines and we love it for so many reasons. So let us count the ways!
You know one of our favorite exercises to work that booty is the SQUAT! It targets your backside, as well as your legs and your core. Plus, it's just so functional — think about how many times you sit down and stand up every day and that's your squat! And the best news is the Squat Band enhances the benefits of that exercise. 
Because it fits around your waist and stretches down to your feet, the Squat Band also leaves your hands free to pick up weights. That means you can easily add in upper body toning moves like bicep curls or a press — the perfect combo exercises to get the entire body involved in your workout. We're talking upper body, abs, and lower body can all get an amazing workout when you incorporate the Squat Band into your routine!
The Squat Band also makes for constant, smooth resistance that helps to sculpt and strengthen your muscles from head to toe! Better yet, it helps emphasize form on squats, as well as moves like deadlifts, which always leads to greater results! That's thanks to the feedback you get from the band, helping you better connect your mind and your muscles.
Last but certainly not least, when it comes to the benefits of the Squat Band: You can toss it in your bag and easily take it with you on the road. It's the perfect travel accessory! 
When incorporating the Squat Band into your workout, make sure you set yourself up right by placing the thick part of the band around the back of the hips, cross the tubes in front, and then step on the band with your feet (make sure you wear sneakers when you use it!). Consider doing exercises for high rep counts (say, 15 to 20) and lighter weights! It won't replace your barbell in terms of strength, but it will definitely fine tone your muscles and get you ready to work stronger for longer!
You also get TWO bands with your purchase — one with a lighter resistance and another on the heavier side. Switch them in and out depending on the moves and the type of workout you're in for! No matter which you choose, you'll feel the burn on that backside and beyond!
Ready to start building that booty with the Squat Band? They're available now at Target and Target.com. Your workout is just waiting to hit the next level with these bands!
Don't forget to share with us how much you love the Squat Band with #TIUteam and #TIUSquatBand! We can't wait to hear how it's enhancing your workouts and making you feel powerful!