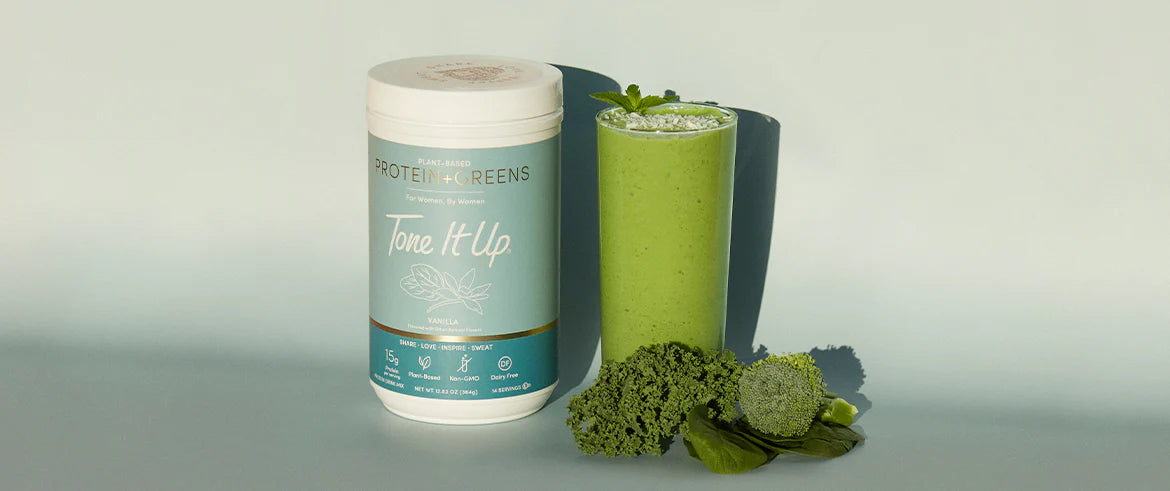 Tone It Up Protein and Greens!
By Tone It Up on
You've heard us say it before and we'll say it again because it's THAT important... getting your greens is key for your wellness goals. Green vegetables are filled with vitamins and antioxidants including vitamins A, C, and K, fiber, folate, magnesium, and potassium. These nutrients boost your immune system, enhance your gut health, keep you satisfied, make your skin glow, fight inflammation, and give you energy. 
You know we love our grilled veggies and salads, but it can sometimes be a challenge to squeeze enough greens into your day. That's why we created Protein + Greens — the easiest and most delicious way to get your greens. 
With Tone It Up Protein + Greens, you taste the delicious, smooth vanilla flavor, not the greens. But each serving is packed with 14 leaves of kale, 4 leaves of spinach. and a floret of broccoli. Plus, it delivers 15 grams of clean, plant-based protein per serving. 
Below check out some of our favorite ways to use your Protein + Greens!
---
Power Greens Smoothie Recipe
Makes 1 serving
INGREDIENTS
2 scoops of

Tone It Up Protein + Greens 

1 cup almond milk 

1 frozen banana 

Handful of strawberries or berries 

Top with coconut & your fave nuts or seeds!
DIRECTIONS
Blend all ingredients until smooth. Top it to your liking!
Tropical Smoothie Recipe
~ From our girl @laurenm_tiu
Makes 2 servings
INGREDIENTS
DIRECTIONS 
Blend all ingredients until smooth. Sip and imagine you're on a tropical island!
Kat's Favorite Protein + Greens Smoothie
INGREDIENTS
1 scoop of 

Tone It Up Protein + Greens 

1 frozen banana

4 Large Strawberries

1 cup of almond milk

Optional Toppings:

Flaked Coconut

White Chia Seeds

Peanuts or Pecans
DIRECTIONS 
Blend all ingredients
Optional : Add almond milk to desired consistency
Optional 2: Add your favorite toppings
You can also use Protein + Greens to make your favorite baked goods like muffins, pancakes, and cookies. With the delicious vanilla flavor, you won't even be able to tell you're sneaking greens into your treats!