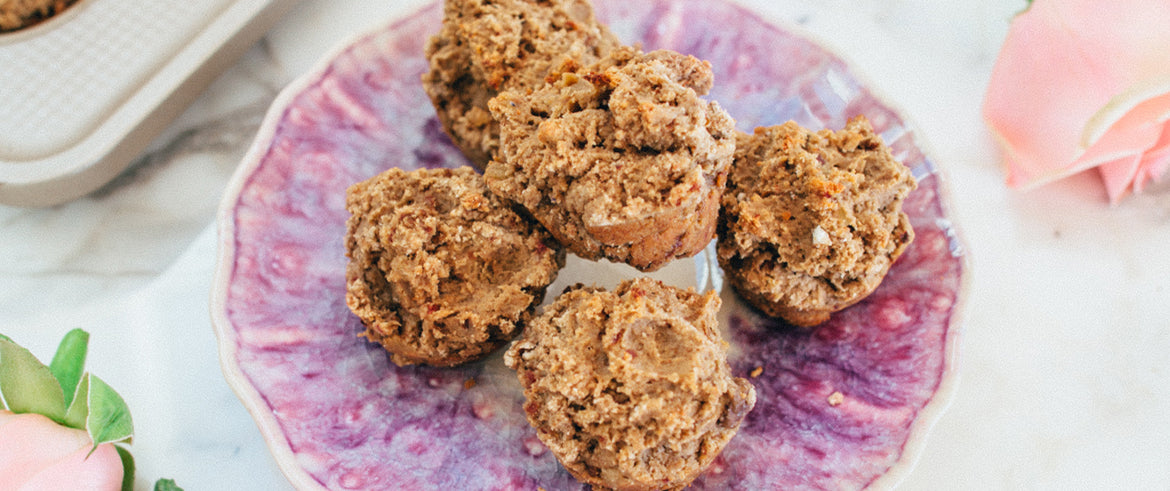 Snickerdoodle Protein Mini Muffins Recipe
By Durlan Vega on
What are you meal prepping this weekend, beautiful? 
We were scrolling through the TIU app to decide, and we came across one of our all-time favorite muffin recipes we wanted to share: Snickerdoodle Protein Mini Muffins! These are so sweet and delicious that they taste like dessert, but they're perfect for a post-workout breakfast or snack because they're made with clean, plant-based Tone It Up Protein. Whip up a batch on Sunday and have them all week long!
AND if you're in the mood for more Snickerdoodle goodness, try our sweet cinnamon Snickerdoodle Protein Cookies ~ they're packed with 10 grams of plant-based protein and they're SO delicious! 
---
Snickerdoodle Mini Muffins Recipe
Makes 18 mini muffins (serving size 3 mini muffins)
INGREDIENTS
3/4 cup

Vanilla Tone It Up Protein

3/4 cup almond meal

2 tsp. cinnamon

1 tsp. baking powder

1/4 tsp. salt

1 egg

1 tsp. vanilla extract

1/2 cup dates, pitted and soaked in warm water to soften

3/4 cup unsweetened almond milk

1 mashed banana

Coconut oil spray
DIRECTIONS
Preheat oven to 350 degrees.

Combine all dry ingredients in a bowl.

Combine all wet ingredients, including the dates, in a blender, and blend until smooth. Add wet ingredients to the dry ingredients and mix to combine.

Spray a mini muffin tin with coconut oil spray. Pour batter into the muffin tins.

Bake for 20-25 minutes or until a toothpick comes out clean.

Top with a little extra sprinkle of cinnamon.
---
Grab your Tone It Up Protein and cookies at
Target
,
H-E-B
,
Vitamin Shoppe
, and
Kroger
(and Kroger affiliates including King Soopers, Fred Meyer, Mariano's, Dillons, Smith's, and Fry's). You can find a store near you
HERE
! You can also stock up in the
TIU Shop
!