Steamed Salmon with Chili-Tamari Sauce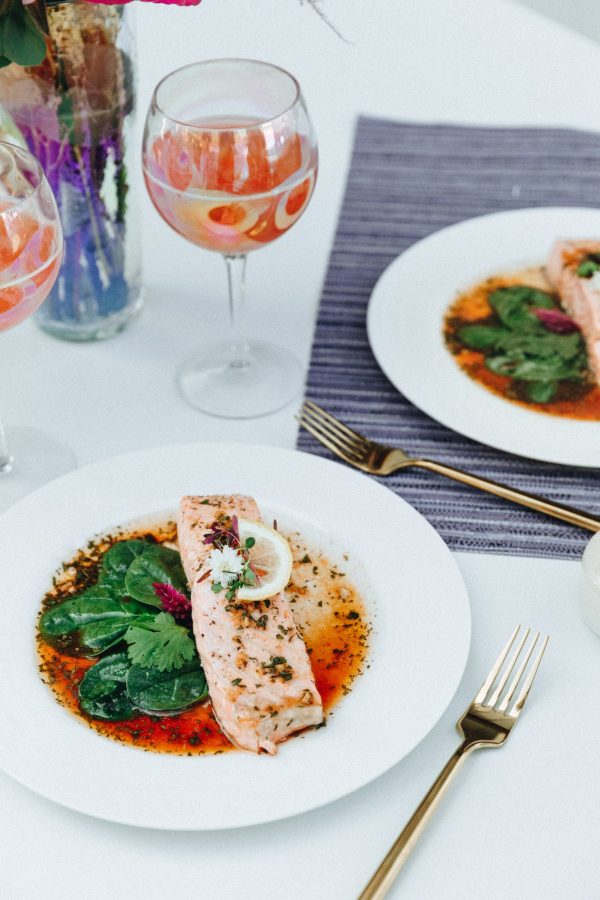 Steamed Salmon with Chili-Tamari Sauce
makes 2 servings
Ingredients
2 6 oz. salmon filets
1⁄2 cup water 
1 Tbsp. chopped cilantro leaves 
2 Tbsp. low-sodium tamari
2 Tbsp. sesame oil
1 Tbsp. minced ginger
3 minced garlic cloves 
1 Tbsp. chili paste
1 Tbsp. honey
Black pepper to taste
Lime wedges for garnish
Fresh cilantro for garnish 
Directions
1. Season filets with black pepper.
2. Line a steamer basket with parchment paper and put the filets in there. 
3. Cover and steam for about 12 minutes or until the fish is done. (*If you don't have a steamer, add 1⁄2 inch of water to a sauté pan with a tight- fitting lid. Place salmon directly in the pan with water and steam as directed above.) 
4. Bring the water, cilantro, tamari, sesame oil, ginger, garlic, chili paste, and honey to a simmer in a small pan. Once simmering, turn heat to low. Taste and add more seasoning to taste. 
5. Arrange the salmon into 2 shallow bowls and pour the chili sauce on top. Garnish with lime wedge and fresh cilantro.