Shots, Shots, Shots!

Hi babe!
Hope you're treating that beautiful body of yours with love and staying healthy during this crazy flu season. We've been taking wellness shots every morning at the HQ to keep those sniffles at bay! We love shots because they're packed with nutrient dense fruits, veggies, herbs, and spices that offer tons of health benefits for digestion, detoxing, and keeping your immune system strong!
And they're so easy to make on your own! Whip up these recipes for a concentrated boost of healthy goodness.

For a Happy Tummy!
Ginger is the main player here to help settle an upset stomach! Add in some pineapple to help beat bloat, and blend in a pinch of mint to soothe and speed digestion!
For an Energy Boost!
By combining espresso, cayenne, cacao, and coconut water, you can give your body a spicy kick of energy! Plus the Potassium will give you a boost in brain function and muscle recovery all at once!
For Healing!
Get on team green by combining spirulina, chlorella, and green apple. This superfood combo will help remove toxins from your body and reduce inflammation
For Wellness!
The key ingredients here are ginger, lemon, turmeric, and cayenne. These powerhouse ingredients provide your body with Vitamin C, antioxidants, and anti-inflammatory compounds to improve immune function.
For Easy Breathing!
Think oregano, garlic, apple cider vinegar, and honey! Be prepared for a potent flavor, but it's worth it! These ingredients will help decongest and clear your breathing passages. The honey adds a little sweetness and helps to soothe a sore throat!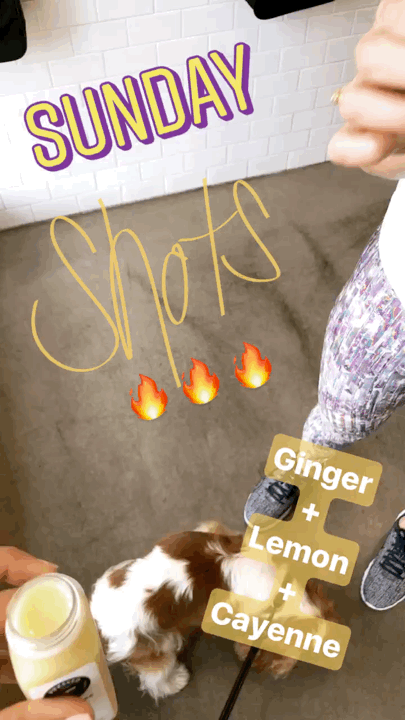 Three more amazing weeks of your Love Your Body Series are comin atcha babe!  And show yourself some love today! Take the time to recover when your body needs to, drink lots of liquids, sweat out those toxins in the Studio, and take lots of shots!!! The healthy kind of course 😉
XXo,
K&K