Chopped Superfood Cobb Salad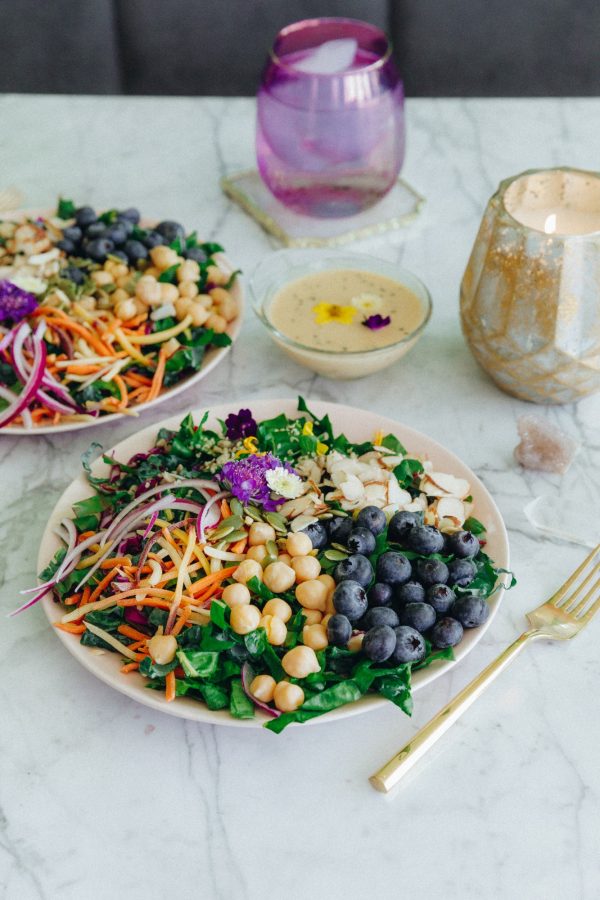 Chopped Superfood Cobb Salad
makes 4 servings
Ingredients
3 cups shredded lacinato kale
2 cups shredded rainbow chard
1 cup shredded purple cabbage
1/4 cup shredded carrots
1/2 cup minced red onion
1/4 cup chickpeas
1/4 cup fresh blueberries
1 avocado, sliced
1/4 cup slivered almonds
1/4 cup pepitas
2 Tbsp. sunflower seeds
2 Tbsp. hemp seeds
4 oz. optional favorite protein (we love grilled chicken or tofu!!)
Dressing
2 Tbsp. tahini
1/4 cup tangerine or orange juice
1/4 cup apple cider vinegar
1/4 cup avocado oil
Pinch of sea salt & pepper
Directions
1. In a medium bowl, combine shredded kale, rainbow chard, and shredded cabbage. Toss together and use this as the salad base.
2. In sections, top salad with shredded carrots, red onion, chickpeas, blueberries, and avocado.
3. Sprinkle the almonds, pepitas, sunflower seeds, and hemp seeds on top.
4. Top with protein if desired.
5. Combine all dressing ingredients in a small jar with a lid. Shake to combine.
6. Drizzle salad with vinaigrette and enjoy.