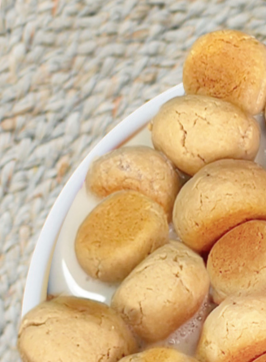 Vanilla Protein Cereal
By Tone It Up on
Ingredients:
Dry:
1 scoop tone it up vanilla protein powder 
1/2 cup oat flour 
Dash of cinnamon 
Wet: 
1 tablespoon melted coconut oil 
1/4 cup plant based milk 
1 tablespoon maple syrup 
Instructions
Preheat over to 350. Add all of your dry ingredients to a bowl and mix together and then add your wet ingredients. Mix together until forms a dough. Now you're gonna take your dough and form little bite size cereal pieces and place them on a nonstick cookie sheet. Do this until all of your dough has been used and then let bake for 15-20 min (time depends on size but they should start to look a bit golden). Once done baking let them sit out for a few hours or even over night to finish drying up a bit. Serve with your favorite plant based milk and enjoy!